Sports Chiropractic at Body Shop Chiropractic and Wellness
We don't just talk about maximum sports performance—we live it. Dr. Sharp has been a Division 1 Track and Field coach, football coach, and Olympian, so he can relate to whichever sport you play. His athletic experience and chiropractic expertise enable him to get to the root of whatever's holding you back, and unlock new levels of power so you can perform at your best.
NEW PATIENTS

Empowering You to Achieve More
Let's say your pelvis is rotated just a few millimeters, causing your left leg to stride a few inches less than your right leg can. Over an 800-meter run, this discrepancy would cause you to cross the finish line four feet shy of what you might have achieved otherwise.
Whether your back, pelvis, feet, ankles, and knees are all in alignment can make the difference between breaking a record, or simply keeping up with the status quo.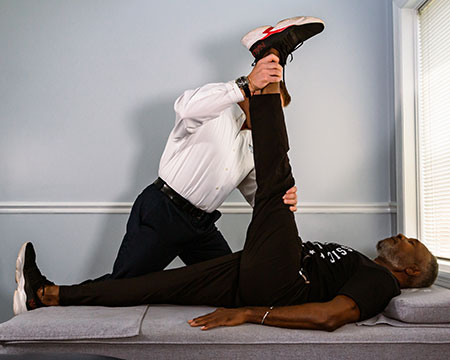 Our Approach
At Body Shop Chiropractic and Wellness, we specialize in subluxation-based chiropractic. There are plenty of physiotherapists out there, so we let them do the muscle work while we focus on the spine, ankle, and knee adjustments that we do best. We're always honest with you about your recovery time and what you can expect from care.
During our comprehensive analysis, we'll check everything, down to the feet and ankles, and do X-rays to get a better look. We may also recommend muscle stimulation, ice, heat, and ultrasound to speed up recovery.
Common Conditions We See
Ankle injuries
Concussions
Knee problems
Low back pain
Helping Your Whole Body Heal
When his fellow bobsledders developed CTE, Dr. Sharp didn't, even though he experienced the same number of concussions. By keeping his neck, head, and brain in good shape with regular adjustments, he prevented damage from building up and spiraling out of control.
He cares for football players, jockeys, motorcycle racers, NASCAR racers, hockey players, powerlifters, and snowmobile racers—in other words, everyone!
Book Now
Restore your body to maximum functioning, so you can perform at your best. Schedule today.
CONTACT US
---
Sports Chiropractic Mt Juliet, Hermitage and Lebanon TN | (615) 559-5226