Nutritional Counseling at Body Shop Chiropractic and Wellness
If you're committed to doing the hard work of improving your lifestyle, we're ready to coach you to new levels of greatness, one step at a time. At Body Shop Chiropractic and Wellness, we offer personalized nutrition counseling and supplementation to help you transform your lifestyle, push your body to new levels of wellness, and achieve more in life than you thought possible.
NEW PATIENTS

Finding Your Body's Unique Nutritional Blueprint
With most Americans eating low-quality food, subluxations can result not only from stress and injury but also from a lack of nutrients. As patients eat better, drink more water, and reduce sugar intake, they hold their adjustments longer and heal faster.
We start with a ZYTO scan, which uses 5.5 million different algorithms to help us see which organ system is under stress. We've seen amazing results as we then recommend supplements specific to your needs. Dr. Sharp will test you again in 45-60 days to see whether you're improving or if you have any further needs.
The ZYTO scan is complimentary for every regular
chiropractic
patient. For those wanting a scan without an adjustment, the fee is $35.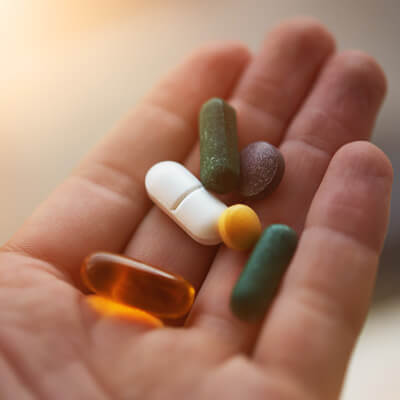 Cleaner Whole-Food Supplements
We supply whole-food supplements from Standard Process and MediHerb. Unlike nutraceuticals you can find in the store, these supplements weren't manufactured in a lab, but come directly from an organic farm.
Store-bought supplements only provide one-tenth of any vitamin and deplete your body, as you have to fill in the incomplete nutrients. Our natural products, on the other hand, derive from plant and animal sources, giving you real nutrition and better wellness.
Personalized Coaching to Meet
Your Needs
If you're dedicated to overhauling your eating habits, we'll help you find a customized eating plan that suits your lifestyle and preferences. Everyone's heritage is different, and no two bodies work the same. We'll guide you based on your blood type, nutritional needs, and individual taste to find an approach to food that resonates with you.
Schedule Today
It takes a lot of work to change old habits, but we'll stick by you every step of the way. Book now.
CONTACT US
---
Nutritional Counseling Mt Juliet, Hermitage and Lebanon TN | (615) 559-5226