New Patients at Body Shop Chiropractic and Wellness
Your First Appointment
The moment you walk through the door, you'll know you're in a friendly, lighthearted place. We'll welcome you and guide you through some easy paperwork while breaking the ice, so you feel right at home, right away.
Dr. Sharp will then lead you back to the adjusting room, where he'll start by interviewing you about what's hurting and what happened. We'll carefully explain the Gonstead approach so you know what to expect, then proceed with a thorough assessment and examination. This visit takes 45 minutes.
Our analysis includes using the Nervo-Scope and then referring you to Premier Radiology for X-rays to give us a perfect roadmap of your body. There's no need to schedule ahead for imaging. When you walk into the facility at Premier Radiology with our paperwork, they'll get you in and out in about 22 minutes, then send us digital copies of your results.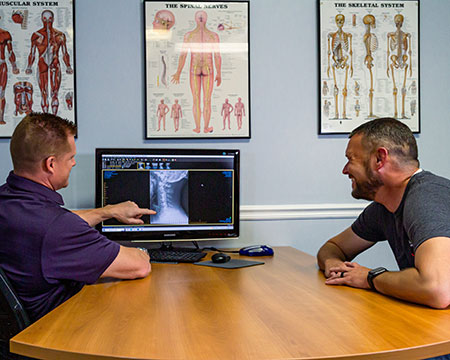 Your Second Appointment
We like to take a little time to look over your images, so we'll have you come in the next day for your report of findings. Dr. Sharp walks you through every square inch of your X-rays, because he's serious about ensuring you understand and remember your condition. We tell you every last detail about your alignment, from head to toe.
Straightforward and Affordable Cash Prices
The first physical exam costs $50, and the second appointment for your report of findings costs $50. After that, we charge $39 for each adjustment.
We're a cash practice, and we accept HSAs and all major credit cards. You can also superbill your visit to insurance by paying at the time of service and sending the receipt to your provider for reimbursement or putting it toward your deductible.
Transform Your Health Today
We can't wait to get started with natural health care. Book now.
CONTACT US
---
New Patients at Body Shop Chiropractic and Wellness | (615) 559-5226