About Body Shop Chiropractic and Wellness
Helping You Achieve More
We're here to help people feel their best as they strive to live life to the fullest. With a background in the detail-oriented Gonstead approach, we provide more effective adjustments to get you back to an active lifestyle.
We don't do the wild stunts you may have seen on YouTube. Our patients are surprised by how easy adjustments are. We love helping you put pain and defeat behind you and step into the life you've always wanted.
Friendly, One-on-One Care
Body Shop Chiropractic and Wellness has been in Mt Juliet for five years and at this location since 2021. We also care for patients from Hermitage and Lebanon. Dr. Sharp jokes around with patients, directing his energy and enthusiasm for life into meaningful relationships.
At the same time, we couldn't be more serious about your health care. Driven by core values of integrity and honesty, we'll let you know if we can't help you or if you need to make a key lifestyle change to achieve healing.
MEET DR. DOUG SHARP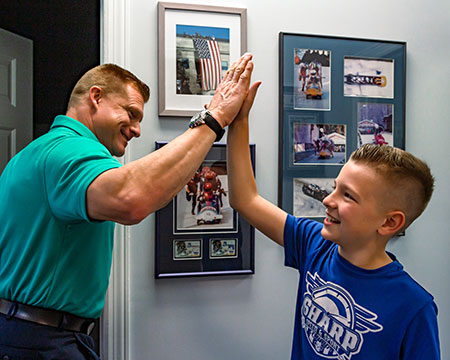 Inspiring Patients to Pursue Greatness
One woman in her forties came to us after extreme pain had dimmed the gleam in her eyes. She had already had two back surgeries, but still felt miserable. After she started care with us, she developed more pep in her step and traded out her sweatpants for dress clothes and nice hairdos.
Now that she was no longer hurting, she had the time and energy to invest in her kids, all of whom became competitive athletes. With time, we found out she was actually a millionaire—but even she needed the proper care and a boost of motivation to start grabbing life again.
Another nurse had undergone back surgery in her twenties, but her low back was still screaming in pain. With nowhere else to turn, she gave chiropractic a try. We got her out of pain and inspired her to become a personal trainer, so she can push others to achieve their dreams.
Find Out What's Possible Today
We've helped countless patients turn their lives around. Could you be our next success story? Book now.
CONTACT US
---
About Body Shop Chiropractic and Wellness | (615) 559-5226